ISA Cybersecurity is proud to announce that we have been named as one of Canada's Top Small & Medium Employers for the second year in a row.

The honour is a result of a national competition that identifies employers in the SMB space that foster outstanding workplace environments, forward-thinking human resources policies, and lead the industry with innovative programs that attract and retain world-class talent.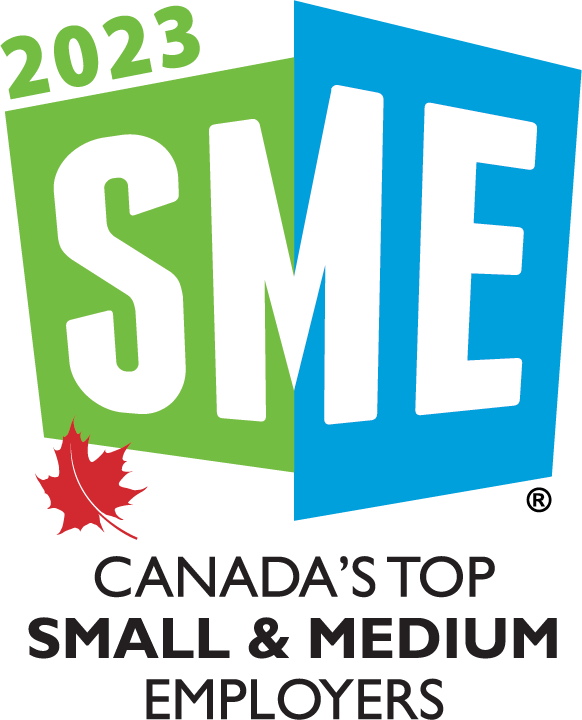 "2022 was a successful year at ISA Cybersecurity. Being recognized as one of Canada's top employers for a second consecutive year is a testament to the teamwork and dedication of our staff and leadership team," said Kevin Dawson, President & CEO of ISA Cybersecurity. "Receiving this honour again for 2023 is very exciting news for all of us."
"We work hard to support an inclusive, open and equitable environment for all our staff, making ISA Cybersecurity a destination of choice for cybersecurity professionals," added Dawson. "I am particularly proud of how we have managed flexible in-office and remote work arrangements without losing the spirit of teamwork that is the essence of our company."
The announcement in The Globe and Mail is a recognition of the impressive array of employee-friendly programs offered by ISA Cybersecurity. "All of our policies and procedures are created to align to our P.A.C.T. values," explained Director of People & Culture, Andrea Bailey, referring to ISA Cybersecurity's "P.A.C.T." principles of Passion, Accountability, Commitment, and Trust. "Our policies are designed to help support our employees throughout their journey at ISA Cybersecurity, constantly evolving to help meet their changing needs."
Highlights of ISA Cybersecurity's policies include:
Flexible sick and personal days for all employees
Generous health plan with enhanced mental health resources recognizing the impact of the COVID-19 pandemic on employees and their families
Education reimbursement up to $2,000 annually for all employees
Maternity and parental leave top-up
Employee referral bonus of $2,000
RRSP matching and bonus programs
ISA Cybersecurity also places great value on celebrating the contributions of all employees through the following service recognition programs:
Annual and five-year milestone service awards and recognition
President's Club recognizing special achievement awards like "Salesperson of the Year", "CIOC Team Member of the Year", "Rick Uhrich Founder's Award", etc.
"P.A.C.T. on the Spot" Awards providing opportunities for instant peer recognition
Bailey also explained the importance of the culture of sharing and open communication at ISA Cybersecurity: "We keep our team up to date on how we're progressing as a company towards our goals, along with what setbacks we experience along the way. We also use internal focus groups to brainstorm ideas for improvements and knowledge sharing. These have been really effective ways of helping us constantly evolve as a company."
Information-sharing initiatives at ISA Cybersecurity include:
Annual kick-off meeting to communicate our strategic priorities
Informal monthly pizza lunches
Quarterly townhalls
Scheduled employee feedback surveys and goal-setting focus groups
Corporate Intranet and departmental home pages
ISA Cybersecurity Learning Community that provides opportunities to share expertise and experiences, network, and develop presentation skills
ISA Cybersecurity is committed to giving back to the community as well. The company's 10th annual charitable golf tournament was a rousing success, raising over $25,000 in support of Diabetes Canada to help fund critical research and send kids with diabetes to D-Camps. ISA Cybersecurity also provides financial and consultative support for several colleges and universities in Ontario, and continues to hire co-op students to help foster tomorrow's generation of cybersecurity professionals today.
"I feel our status as thought leaders in the industry and our position among Canada's leading cybersecurity-focused companies makes us an attractive destination for cybersecurity professionals who want to work with some of the best in the business," observed Enza Alexander, Executive Vice-President, who was named one of Canada's Top Women in Cybersecurity for 2022. "As we enter our fourth decade in operation, ISA Cybersecurity's commitment to protecting Canada and Canadians from cyber threats has never been stronger. Almost every Canadian is affected by a business or organization that we help to protect, be it in the broader public sector or in private enterprise. The work we do makes a real difference in people's lives: how great is that?"
Click here to learn more about why ISA Cybersecurity was selected and check out our current job openings.