It's official: ISA Cybersecurity is a Great Place to Work®!
ISA Cybersecurity is proud to announce that they have been honoured with a Great Place to Work® in Canada certification this year.
The honour is a result of a thorough, independent analysis conducted by the Great Place to Work Institute® Canada. The certification is based on direct, anonymous feedback from all employees about their workplace experiences, including corporate environment, policies and programs, training opportunities, management, and compensation. Employee feedback was emphatically positive, placing ISA Cybersecurity in the 80th percentile among participating organizations.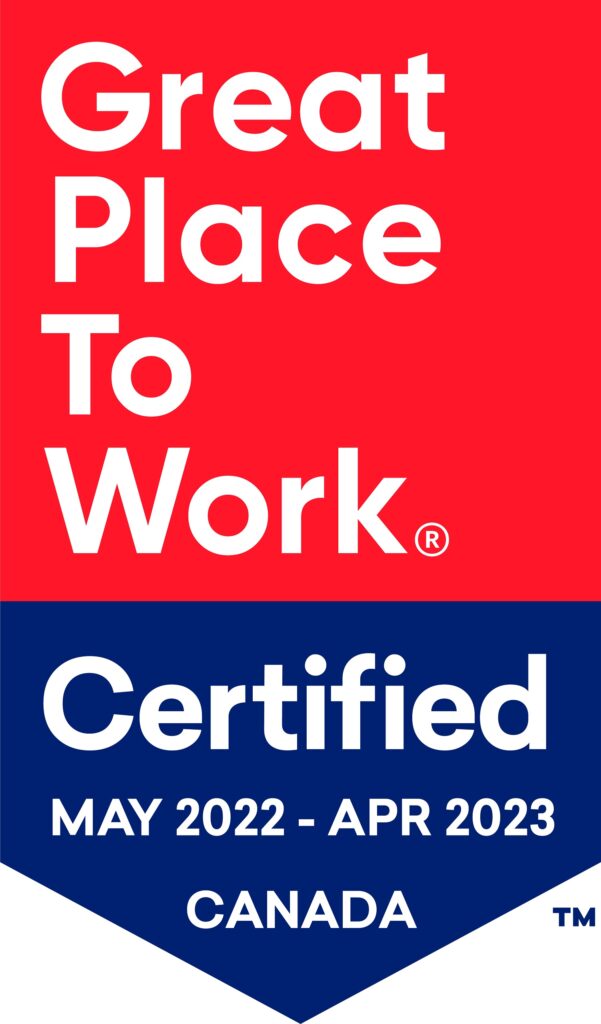 "As we celebrate our 30th anniversary, being recognized as a Canadian Great Place to Work® is a special honour. It's a tribute to the teamwork and dedication of our staff and leadership team," said Kevin Dawson, President & CEO of ISA Cybersecurity. "Our employees have a great sense of unity and genuinely support each other. Considering the challenges we and our customers have faced during the pandemic, this certification validates the extra effort and commitment from our group." 
"The highly-competitive market for cybersecurity talent is well-documented. We are proud to nurture an inclusive, open, and equitable environment for all our staff, making ISA Cybersecurity a destination of choice for cybersecurity professionals," added Dawson. 
"All of our policies and procedures are designed to align with our P.A.C.T. values," explained Director of People & Culture, Andrea Bailey, referring to ISA Cybersecurity's "P.A.C.T." principles of Passion, Accountability, Commitment, and Trust. "We constantly review our policies to ensure that they take a people-first approach to help support our employees throughout their journey at ISA Cybersecurity. The Great Place to Work Institute® is the global authority on workplace culture: their certification not only confirms that we are an employer of choice, it also helps us to identify areas where we can focus to help foster an even more successful culture." 
ISA Cybersecurity's

programs and policies

include:
– Flexible sick and personal days for all employees
– Generous health plan with enhanced mental health resources recognizing the impact of the COVID-19 pandemic on employees and their families
– Education reimbursement up to $2,000 annually for all employees
– Maternity and parental leave top-up
– Employee referral bonus of $2,000
– Complimentary enrolment in third-party perk/discount program
ISA Cybersecurity also places great value on celebrating the contributions of all employees through the following service recognition programs:
– Annual and five-year milestone service awards and recognition
– President's Club recognizes special achievement awards like "Salesperson of the Year", "CIOC Team Member of the Year", "Rick Uhrich Founder's Award", etc.
– Annual P.A.C.T. Awards recognizes exceptional commitment to core company principles, and "P.A.C.T. on the Spot" Awards provides opportunities for immediate peer recognition
Bailey also explained the importance of the culture of sharing and open communication at ISA Cybersecurity: "We keep our team up to date on how we're progressing as a company towards our goals, along with what setbacks we experience along the way. This is a key way for us to constantly improve as an organization."
Information-sharing initiatives at ISA Cybersecurity include:
– Annual kick off to communicate strategic corporate priorities
– Quarterly townhalls
– Scheduled employee feedback surveys and two-way performance evaluation
– Corporate Intranet and departmental home pages
– ISA Cybersecurity Learning Community that provides opportunities to share expertise and experiences, network, and develop presentation skills
ISA Cybersecurity is committed to giving back to the community as well. In addition to sponsoring charitable causes (highlighted in 2021 and 2022 by golf tournaments in support of Diabetes Canada), the company has deep ties to numerous Canadian post-secondary education institutions. ISA Cybersecurity provides financial and consultative support for several colleges and universities in Ontario, and commits to hiring co-op students to help foster tomorrow's generation of cybersecurity professionals today. 
"Cybersecurity is more than just a job – it's a calling. Our team is dedicated to fighting back against cybercrime. We form lasting partnerships with our clients and become an extension of their team, working side by side with them to protect hospitals, schools, critical infrastructure, and financial institutions – the foundation of our everyday lives. Almost every Canadian is affected by a business or organization that we help to protect. Our work is meaningful, and that really resonates with our staff," observed Enza Alexander, Executive Vice-President. 
Click here to learn more about why ISA Cybersecurity was selected. Interested in joining a Great Place to Work®? Check out our current job openings.