We're headed for a national emergency. There are increasingly more smart technologies being used in Canadian homes, cities, governments and industries. The rapid adoption of networked technology in the face of a significant shortage of adequately trained cybersecurity professionals means we are all vulnerable. Cyber attacks are on the rise, but the talent pool of skilled cybersecurity professionals is not keeping pace. 
You wouldn't put all of your money and write down all of your secrets only to put them in a room without a door, or a lock, or Chuck Norris, or any other sort of barrier between a stranger and your money – without adequate cybersecurity on your networks and devices, essentially, that's what you are doing. In the next 3 to 5 years, there is a predicted cybersecurity talent shortage of 2 million professionals worldwide. That's a lot of unprotected money and secrets. 
What's happening now in the industry is a perfect storm for potentially catastrophic cyber events. We are seeing more sophisticated threats coming from relentless threat actors who continue to innovate and challenge new technologies. Cyber attacks can garner big payoffs, with cybercriminals as a whole reaping $6 trillion a year.
Cybercrime cost is more lucrative than the worldwide trade of all of the combined major illegal drugs. The threat landscape itself keeps spreading with our growing reliance on the Internet of Things for both personal and industrial use.
With the potential significant earnings for criminals and the spread of more networked technologies, the cyber situation will only continue to worsen. The most substantial concern remains the shortfall of skilled cybersecurity professionals.  
Proud to Partner

The University of Guelph recognized the industry need and the gaps in cybersecurity talent and educational opportunities a few years ago. Since then, the university has been developing educational programming to minimize the gap.
The university has partnered with cybersecurity industry leaders ISA, Cisco and McAfee, amongst others, to create The Master of Cybersecurity and Threat Intelligence program that blends the science and practice necessary to work in the cybersecurity industry in a genuine and meaningful way. A lot of schools have Computer Science programs, but Computer Science doesn't prepare you for cyber – it prepares you for computers. Therefore, Team ISA is very invested in this program and helping to promote its students. 
The University of Guelph has now officially launched the Master of Cybersecurity and Threat Intelligence program. I was honoured to be in attendance at the launch. The Master of Cybersecurity and Threat Intelligence program is an exceptional educational opportunity that focuses on the Canadian cybersecurity landscape. It aims to develop students' technical understanding of security threats and solutions.
The one-year program draws graduates of math, computer science, and physics, as well as working professionals who are interested in software security, intrusion detection and cryptography. They have created a program launch video that can be viewed here. 
The program is headed by industry-expert Dr. Ali Dehghantanha, who has a Ph.D. in Security in Computing and is a Certified Information Systems Security Professional (CISSP) and a Certified Information Security Manager (CISM). Previously, Ali served as a Senior Lecturer in Security of Advanced Systems Group in the University of Sheffield – United Kingdom. Ali is exceptionally qualified in the field of cybersecurity and brings excellent vision and global experience to the program. Ali wants the students to get real-world, hands-on experience from industry leaders and partners.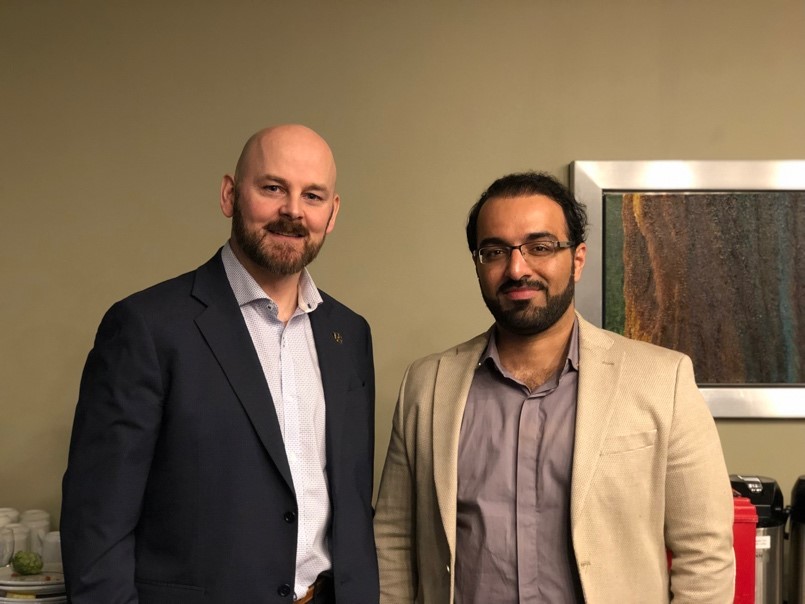 Following Ali's vision, the university has brought world-class researchers and professors on board, created both a state-of-the-art cybersecurity teaching lab and the University of Guelph Security Operations Centre, which allow for robust experiential learning activities. Students will learn the core concept of security, the science behind cyber, and the ethical considerations that these technologies bring.
The program promises a great deal of overlap between Artificial Intelligence and cyber, which is essential in the security industry with both the bad guys and the good guys using AI technology. Students will learn about penetration testing and digital forensics through a hands-on format.
The blend of practical and theory, the operations centre, and the level of academic talent that the University of Guelph has employed, set this program apart from similar cybersecurity programs in Canada.
Really, We're Being Selfish

The team at ISA believes that it is going to take public-private partnerships to address the cybersecurity skills shortage. We, at ISA, are challenged to find qualified and skilled professionals to join our team. By investing in this program, we are really investing in our own business model and helping ensure that ISA will remain an industry leader in the future by helping to fund and develop the talent of tomorrow. 
I believe that making cybersecurity education enticing and accessible is essential. It is a growing industry with a lot of opportunities for an emerging workforce to carve out lucrative careers. We want to draw the right talent to the program, and later to the industry – people who are interested in technology and security, who are versatile, creative thinkers, who like challenge and change. ISA is pleased to be able to provide the Information Systems Architects Inc. (ISA) MCTI Entrance Scholarship.
Two ISA MCTI Entrance Scholarships of $5,000 each are available to students registered in the Master of Cybersecurity and Threat Intelligence program. One scholarship award is to go to a female student and one to a male student.
The scholarship's gender stipulation promotes another ISA initiative, to encourage and support women who work in, and who are entering, the cybersecurity industry. Because, along with a shortage of skilled professionals, there is also a shortage of women working in cybersecurity. At ISA, we believe that diverse perspectives strengthen our solutions and our corporate culture.
Every cybersecurity provider can, and should, contribute to remedying this professional shortage. Apart from ISA's financial donations and scholarships, our intentions going forward are to get some of ISA's industry experts to act as guest lecturers and to get some of Ali's team involved with our cybersecurity team conducting research projects. It's selfish really – research conducted through The Master of Cybersecurity and Threat Intelligence program will help advance cybersecurity and help ISA's business. The University of Guelph is a longstanding customer of ISA's, and we, as an organization, like to give back to our customers, and this is just one small way that we can.
Fall program admissions are now open. For more information about the program and the scholarships, or to apply, click here.